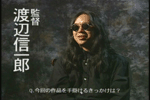 DIRECTOR Shinichiro Watanabe

Q. How did this project start?
I was told to create something that involved spaceships and to submit a concept. They said as long as it portrayed spaceships they wouldn't question anything. So I agreed.

Q. What took a lot of time?
I had to create a non-existent world step by step, and make it seem as though life actually existed. I had to consider every aspect including trash cans and telephone poles. And usually, I don't think about these things, cause it's a pain, but when I did, it took a lot of time and effort.

Q. What did you want to express the most?
I wanted to create something that had never been seen. You've seen a lot in the past, and find things you like. These days, many people try to create what they've seen. That's not what I wanted to do. I probably included what I've seen and liked. But the overall picture will become something totally new. Creating something never seen before was my goal... sort of.

Q. What's the theme of the series?
Spike's past, or his karma. Part of his life you haven't seen. People wanted to, but we couldn't show it on television. On video, in the 26 episode series, you see it gradually. It's the underlying theme throughout the show.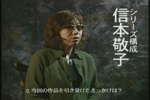 SERIES COMPOSER Keiko Nobumoto

Q. Why did you work on this project?
I first worked with the director, Mr. Watanabe, on Macross Plus. Later, I was asked to work on a series directed by Mr. Watanabe. I still don't know what a Series Composer is supposed to do... I'm writing the scripts for a number of episodes.

Q. How is it different from other anime?
The use of gaps. This series makes really smart use of gaps.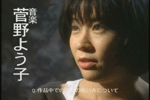 MUSIC Yoko Kanno

Q. How is the music used in the series?
I was so amazed to find this piece used for this scene? Some of the pieces I wish they used for different scenes. (Laughs) But I didn't find any that were inappropriate. So, I'm happy.

Q. How about the production team?
Everyone is so relaxed (Laughs) like, they're sitting around lazy. (Tilts head onto shoulder, laughs) I don't think they say they're tired. Anime, either commercials or TV, they're all so serious, always arguing. 'This scene should be like this...' 'No, no, the heroine shouldn't say such a word!' That's my impression. But this team... (Slouches back) They're totally slacking off. (Laughs) And it shows in this anime!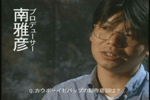 PRODUCER Masahiko Minami

Q. What were your intentions when producing Bebop?
I've been doing robot stories, and I wanted to do something different this time.

Q. What's your impression?
I watched the rush film. It's solid. We're putting a lot of time and money into it hoping to recoup the costs. (Laughs)

We're going to make a lot of money... Cut! (Laughs)