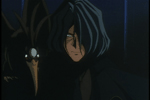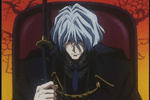 Age: 27
Personal Weapon: Katana
Appears In: SESSIONS 5, 12, 13, 25 & 26

Vicious is a ruthless top-ranking member of the "Red Dragon" crime syndicate. A loner by nature, it seems his only companion is a black-feathered alien bird. He mercilessly carries out the will of the syndicate's elders though his loyalty to the organization is often questioned. His values and beliefs, like is choice in weaponry, are old-fashioned and highly resistant to change.


Vicious and Spike were friends, rising together within the ranks of the syndicate before his girlfriend Julia fell in love with Spike.